If you are suffering from a painful or sensitive tooth or have been diagnosed with a dental abscess, our dentists may recommend gentle root canal therapy to help treat the condition. Our gentle root canal therapy is designed to eliminate the infection and renew not just your smile, but your complete health!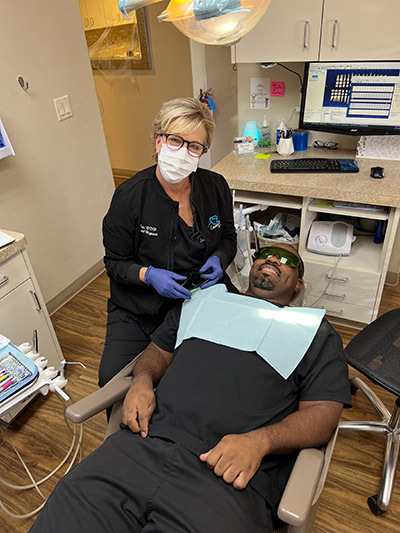 Creative Smiles Dentistry offers the best root canal treatments near Tucson, Catalina, Oro Valley, and beyond because we take a comprehensive, systemic approach to treatment. Our doctors work hard to ensure that a damaged or decayed tooth isn't compromising anything else.
And, if you are at all nervous about your root canal, we can help! Our caring team is trained to cater to nervous patients. We even offer an extensive comfort menu and administer laughing gas to those who need it!
What Is Root Canal Therapy?
When the soft, inner-section of the tooth, also known as the pulp is infected, our team will work hard to eliminate the infection and restore your health. Because infections like this cause pain, we will work efficiently to remove the root, treat the decay, and seal the area for lifelong results.
Our doctors use cutting-edge diagnostic imaging tools to spot dangerous infections. Always attend your regular bi-yearly exams and come in for emergency exams, when needed, and your smile will be healthy for life!
Signs That You Could Need A Root Canal
Many patients experience a range of painful or uncomfortable symptoms when suffering an infection. If you are experiencing any of these indications, give us a call right away:
Swollen gums
Tender gums
Red gums
Tooth pain
Tooth sensitivity
Gum abscess
Sharp pain when eating
Once we see you for an appointment, our doctors will go through the steps to deliver a proper diagnosis. From there, we will develop a treatment plan made just for you!
Schedule Your Root Canal Therapy At Creative Smiles Dentistry Today!
Root canals can't wait! Call us today to schedule your appointment.